Kigali, Rwanda, September 16, 2023: Mount Kigali University has launched electronic sports (e-Sports) for its students. The launch was presided over by Board of Trustees chairman and founder Prof. Simon Gicharu.
With the launch, Mount Kigali University becomes the first institution of higher learning in Rwanda to have such facilities domiciled at its premises.
The launch came hot on the heels of receipt of Instruments of Power by the university administration from the Board of Trustees, which confirmed Mount Kigali University as an autonomous institution.
Mount Kigali University was previously a campus of Mount Kenya University, but was granted full accreditation by the Government of Rwanda in April this year.

E-Sports, as the name suggests, are an electronic/digital version of popular sports and other variations of video gaming. A state-of-the-art gaming laboratory featuring several consoles of Play Station 5 and Smart TVs was unveiled at Mount Kigali University in Gatenga Sector.
"The launch of Electronic Sports (or e-Sports) is in line with our reputation as a university that keeps up with the modern trends," said Prof. Gicharu. "Long gone are the days when sports were confined to outdoors physical activities. Everything has now gone Digital….including sports.
The journey to establishment of e-Sports at Mount Kigali University was pioneered by Kenyan-based Santiago E-Hub Gamers. Last month, two members of the E-Hub team- who are also students at Mount Kenya University- participated in the Gamers8 in Saudi Arabia, the world's largest gaming and e-Sports festival.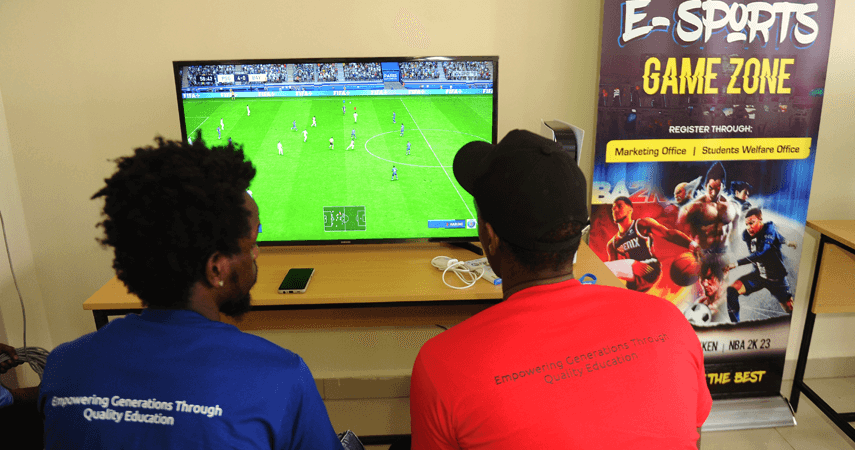 "I look forward to seeing Mount Kigali University students participate in these international tournaments in near future," said Santiago founder Solomon Kahiga. "We will hold their hands until this dream comes true."
Over the last few years, e-Sports have evolved from a hobby to a global phenomenon involving millions of fans.
Electronic sports have several stark advantages over other sports in that they are open to all students regardless of their physical abilities or backgrounds.
They also open up career opportunities in game development, event management, and broadcasting. E-Sports also foster community building since players form bonds with their teammates and opponents alike.
In addition, fans rally behind their favorite teams, thus creating a vibrant and supportive community. E-Sports also come with intellectual benefits for students in that winning games requires strategic thinking, problem-solving skills, and teamwork.

During the launch, Prof. Gicharu pledged to support the Rwanda Dream Team players by donating a controller for every member of the team. The controllers, just like the consoles and smart TVs do not come each. Each costs nearly 100,000RWF.
Mount Kigali University hosted exhibition matches against the Rwanda Dream Team during the launch. Mount Kigali University emerged victorious, winning trophies and cash prizes. In total, the matches had a pool prize of 440,000RWF.